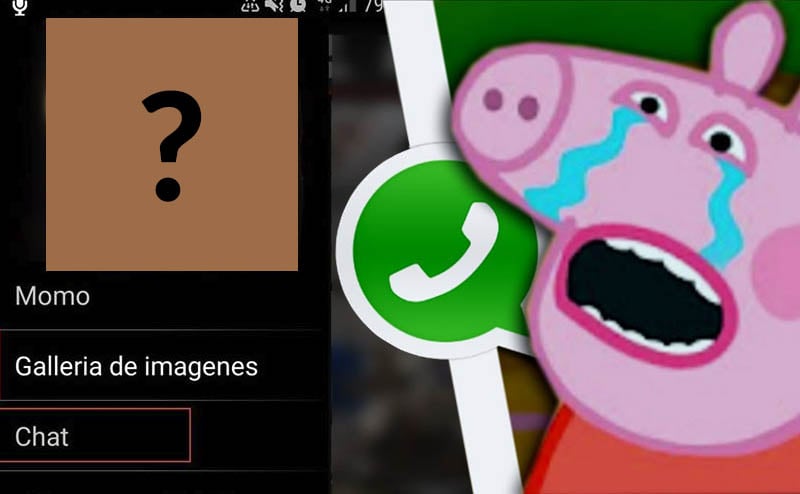 A hoax? Fake news? Urban legend? How did social media, worried parents, playground gossip, the police and even Kim Kardashian help this disturbing online myth snowball out of all proportion?
*        *        *       *        *        *
King's was part of it too.
Last week the staff room was awash with stories of the creepy 'Momo' figure who appeared in children's YouTube videos, encouraging kids to harm themselves and threatening to hurt their parents if they did not obey. Someone knew someone who knew someone else whose daughter had been to see a psychologist, she was so disturbed by it. Another had seen screen shots of a decapitated Peppa Pig lying in a pool of blood and another had heard that even Paw Patrol was not immune, with 'Momo' hacking in to insert scenes of puppy torture in otherwise innocuous children's videos. Several staff members had seen Facebook posts from concerned friends, warning them 'Momo' was encouraging children to suicide. 
Our amazing Student Wellbeing team were hot on the trail, researching parent help videos, seeking professional guidance and looking at ways to advise, warn and protect King's families. Posts went out on King's Facebook page and Compass. The response was huge.
Then the backlash came.
In the UK, the BBC recanted its reporting of the 'Momo Challenge', apologising for perpetuating what now appears to be 'fake news'. Many news agencies followed suit. Children's charities warned that publicising such stories was doing more harm than good and starting unnecessary hysteria and fear in vulnerable young people. YouTube denied receiving any evidence or videos promoting the 'Momo Game'. Yet many people remained convinced: Momo was real, Momo was dangerous and Momo was threatening the mental health and physical wellbeing of our children.
What is going on here?
What is Momo? Timeline of an urban legend:
If you're lucky enough to have missed the recent Momo mania, you may not have come across this attractive lady, associated with the threats and the fear:
Hardly surprising that this sinister image, attached to social media warnings, should catch the attention and imagination of so many.
The bird-footed, boggle-eyed demon-woman is actually a sculpture called 'Mother Bird', created by Japanese artist, Keisuka Aisaura, from special effects company, Link Factory. It was displayed in the Vanilla Gallery, Tokyo, Japan in 2016 as part of a horror-themed exhibition.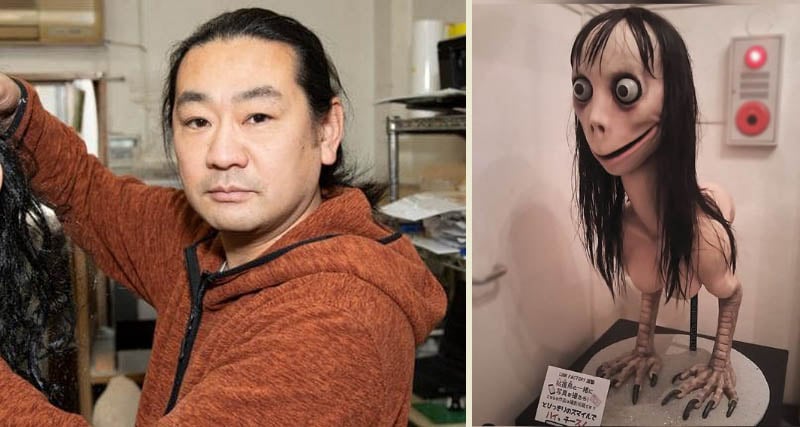 Artist Keisuka Aisaura and his eerie creation, 'Bird Mother'
It's a striking, disturbing image. And people photographed it … as you might expect. People posted and shared the image on social media … as you might expect. On the 25th and 26th August 2016 alone, three separate Instagram posts of the image generated tens of thousands of 'likes' and comments from around the world.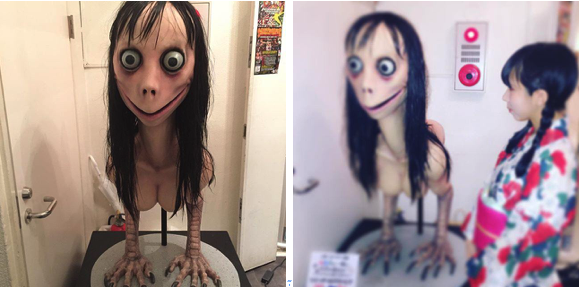 Early Instagram posts of 'Bird Mother'
The images spread across the internet and picked up some lively back stories and legends, predominantly in Spanish-speaking countries. The first wave of creepy urban myth associated with the 'Momo' image involved a mysterious WhatsApp phone number which, when contacted, challenged the caller to a series of challenges – starting with watching specific movies, moving on to self-harm and ultimately suicide. The 'Momo Challenge' (sounding suspiciously similar to an earlier 'Blue Whale Challenge' phenomenon) was probably a hoax but captured the imagination of enough people to generate a wave of YouTube videos reporting on or 'investigating' it, including "Exploring the Momo Situation" uploaded by YouTuber ReignBot on 11th July 2018, which generated 96,000 views in 24 hours.
Suicide link?
On 25th July, 2018, the Buenos Aires Times, in Argentina, reported that police were investigating the suicide of a 12-year-old girl and a potential link to a WhatsApp 'Momo game'. While no link was ever established by the investigating authorities, the dots were joined by media companies around the world, including Fox News in the US and countless UK tabloids, raising its profile and sewing the seeds for moral panic.
February 2019: A busy month for Momo
The second wave of Momo hysteria appears to have begun in the UK. This time Momo had got nasty and was allegedly targeting innocent preschoolers. 
There is some confusion over the initial source. The Manchester Evening News (England) ran a story about the 'Momo Challenge' on 20th February 2019, following a report by a woman in Bolton who had posted her concerns on a community Facebook page. These concerns were based on stories her child had heard circulating in the school playground but they were significantly 'hyped up' by the Manchester-based newspaper.
Up in Scotland, around the same time, 'The Herald', reported that an Edinburgh mother had been shown a disturbing Momo image on her phone by her eight-year-old son who claimed he had heard her telling him to take a knife from the kitchen and put it to his neck. 
Four national UK national newspapers took up the Momo story, followed by an article on the BBC website based on a police report from Northern Ireland; this claimed that the Momo challenge "conceals itself within other harmless-looking games or videos played by children, and when   downloaded it asks the user to communicate with 'Momo' via popular messaging applications such as WhatsApp". No evidence was found to back up these claims. The Daily Mirror (UK) published an article claiming that 130 Russian teenagers had committed suicide as a result of the Momo craze … but then retracted it.
Too late.
By now, well-intentioned and worried parents and schools had already begun their campaign on social media, alerting others about this dangerous, insidious enemy. Momo, they warned, was now 'invading' young children's videos on YouTube, showing Peppa Pig drinking bleach and attacking Daddy Pig with knives. Screen shots, purportedly from these videos, were 'helpfully' included in social media posts, adding to the general outrage and alarm. Warnings were reposted and retweeted. Tweets by Twitter users @BreeDaAuraGod_ in the UK and Wander Maximoff in the US, containing a creepy Momo pic, were retweeted over 30,000 times in a 24 hour period.
Celebrity influencer Kim Kardashian jumped on the bandwagon, broadcasting her fears to her 129 million Instagram followers: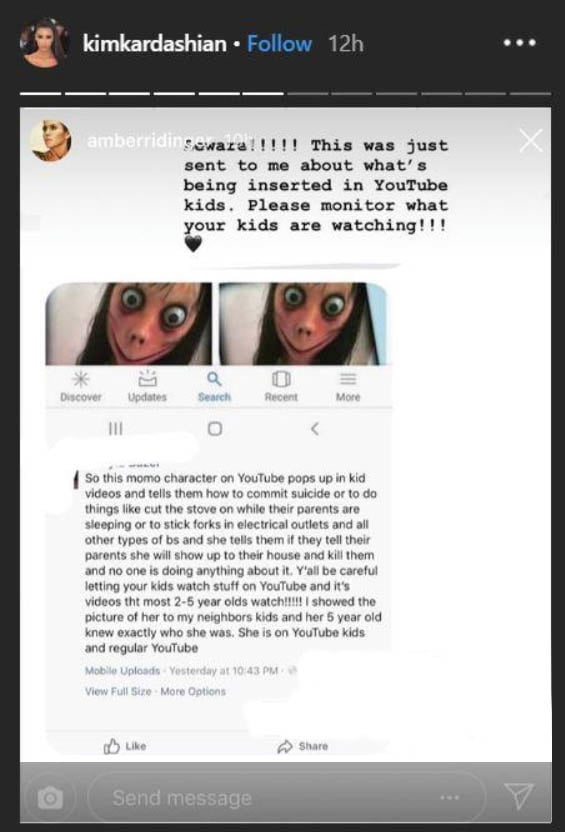 So is there any truth in it?
Probably not. Yes, you can search on YouTube and find dozens of videos dedicated to 'Momo' – discussing its validity, showing alleged 'clips' from hacked videos, investigating the claims .. but no-one appears to have any real 'proof' of a Momo challenge. Copy-cat videos with creative editing, third-hand reports and malicious posts by trolls stirring up the general hysteria have all added to the mix.
"But I've seen the screen shots," anxious parents say, "I've seen the clips".
I've seen them as well … they were frequently included in panicky parent posts on Facebook by way of illustration … but who knows who manufactured them or where they came from? 
Warped versions of children's videos (including the aforementioned Peppa Pig atrocities) were widely reported in the media last year, without any connection to a Momo challenge and before most of us had even heard of the scary bird lady. Screen shots from these clips are now doing the rounds as they embellish the Momo myth but they have different origins.
Sadly, there will always be people who upload images and videos designed to scare others. The Momo challenge may be fake news … but who knows what online nasties lurk around the corner? As parents, it is our job to be vigilant about what our children access online. Inappropriate content can take all shapes and forms and parents are their children's primary content filter.
Tips for parents
Keep electronic devices out of the bedroom. Encourage internet use in a 'public' part of the house where you can see what's going on. This doesn't mean hovering at your child's shoulder but be aware of what your children are watching online (check browsing history, if necessary).

Avoid using the internet as an 'electronic babysitter'.

Keep communication channels open with your child.  Show interest in what they enjoy online. Instill a culture of 'Nothing is so bad that you can't tell me about it and I will support and help you through it'.

If your child tells you they've encountered the Momo Challenge or something worse, ask them if they experienced it firsthand or was it something someone else had posted or copied and passed on. If they have personally experienced something threatening or disturbing online, get them to show you. Take screen shots. Report it. Just don't post it to 500 of your closest friends via Facebook!
Related Blogs: